Be a Visionary, Be a Changemaker!
"LearNowX Awaits Your Innovation And Creativity Beyond Limits."
Presenting

"IDEATHON"


Shaping Ideas, Building Futures
Online | Offline | A-17, Sector-63, Noida, (UP)
Step Into The LearNowX Ideathon Realm:
What Is In Store For You?
Explore the world of cutting-edge innovation with the LearNowX Ideathon, where ingenious students engage with the software technology industry.
Embrace the thrill of competition as you demonstrate your unique ideas and conquer challenges using advanced techs like AI, Machine Learning, Data Science, Salesforce, Java, Python, MEAN & MERN expertise.
Grab the chance to win exclusive PRIZES and unlock INTERNSHIP opportunities, paving your path to an exciting future in the growing tech industry.
"Step Back In Time & Explore Our Past Hackathon Event's Highlights"
Innovative Technologies Driving Ideathon
Artificial Intelligence
Machine Learning
Data Science
Salesforce
Java
Python
MERN
MEAN
Education
Healthcare
Banking
Manufacturing
Environment
Sustainability
Sample Problem Statement Overview
"A quick glimpse of the problems ahead, awaiting the brilliance of your mind!"
People often have questions on various topics, and currently, individuals provide answers manually, which can be time-consuming. To automate this process, we leverage the latest AI technologies to generate answers automatically for frequently asked questions (FAQs). Every question asked can be stored, and the list of questions can be increased to provide a better mapping of questions and answers. This process can reduce work pressure for both consumers and the government. Also, quick responses and suggestions can help in better economic market growth.
Objective
Build an AI-powered Chatbot (mobile/web app) to generate answers to queries based on FAQs. Additionally, the Chatbot should automatically add more FAQs with proper categorization. You can use machine learning algorithms to expand the dataset of questions and answers and ensure that the mapping of questions and answers is maintained every time the dataset grows.
Disclaimer: *The above is the sample problem statement and not the actual one for the Ideathon. Participants are expected to address unique challenges within the given theme.*
[18 Aug 2023 – 3 Sept 2023]
Evaluation of Proof of Concept
Evaluation of Minimal Viable Product & Results Declaration
Your Efforts & Skills Will Not Go Unnoticed
  Amazing Prizes & Rewards Just for You!
Win
₹ 1,00,000
(Jackpot prize)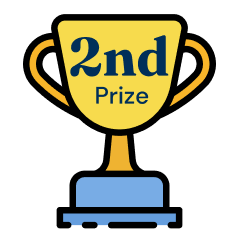 Next 5 positions:
₹ 10,000 each
Get highlighted on LearNowX social media, inspiring others with your extraordinary achievement.
Get a cost-free Internship opportunity to work alongside industry experts and launch your dream career.
Enjoy delicious food, refreshing drinks, a trendy event t-shirt, and exclusive goodies to cherish.
Travel reimbursement for Train (Sleeper class) / bus (T&C)*

Applicable to non-NCR participants.
Participants with shortlisted ideas for the final evaluation of MVP will be eligible for travel reimbursement. Prior approval required.
Innovative Ideas
Share groundbreaking project ideas.
Networking
Connect with like-minded individuals and industry experts.
Learning Opportunities
Gain valuable insights from experienced mentors.
Skill Development
Enhance problem-solving and design skills.
Recognition
Showcase talent on a competitive platform.
Prizes
Win exciting rewards for contributions.
Inspiration
Get inspired by fellow participants' brilliance.
Fun and Engagement
Enjoy a vibrant and interactive event.
Career Opportunities
Explore potential pathways and exposure.
Impactful Solutions
Tackle a real-world challenge.
Meet Our Tech Experts & Jury Members
Chief Information Officer "Spread the word with your friends,
colleagues, and fellow tech enthusiasts."
Together, let's make the LearNowX Ideathon a grand success & inspire the next
generation of innovators and problem-solvers!
Frequently Asked Question
Is there anything else you'd like to know?
I am all set to participate!